LETTER 08
Season 1, Episode 8

Vital statistics

Air date
August 21, 2016
Written by
Takano Ichigo
Directed by
Hiroshi Hamasaki

Episode guide

Previous
Next
LETTER 07
LETTER 09
Up until now, Naho had been doing everything the letter from the future had told her to do, but is the letter always right? The letter from the future asks Naho to make sure Kakeru doesn't run the relay race at the athletic festival, but what does Naho decide to do?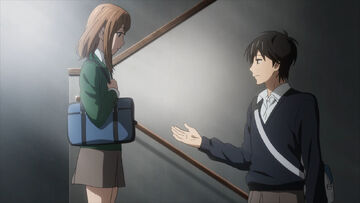 Appearances
Edit
Ad blocker interference detected!
Wikia is a free-to-use site that makes money from advertising. We have a modified experience for viewers using ad blockers

Wikia is not accessible if you've made further modifications. Remove the custom ad blocker rule(s) and the page will load as expected.